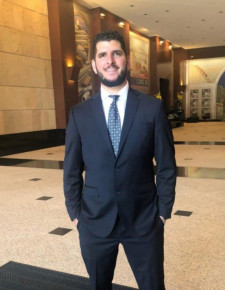 LONG BEACH, Calif., October 11, 2022 (Newswire.com) - Belal Hamideh, an accident attorney in the Long Beach area, has recently helped many clients who were injured in vehicular accidents, when they slipped and fell, and in other circumstances. Nationwide, wrongful death accidents have risen from previous years, both at work and elsewhere. Now, he is ready to help those who have lost a loved one due to another person's recklessness and/or negligence.
According to the AFL-CIO, "the Latino fatality rate increased again to 4.5 per 100,000 workers in 2020," which was "32% greater than the national average," which "makes a 15% increase over the past decade."
Workplaces can be dangerous, as "workplace violence deaths increased to 705 in 2020," and "there is no federal OSHA standard to protect workers from workplace violence." This takes a toll on businesses as well as workers, as "the cost of job injuries and illnesses is enormous — estimated at $176 billion to $352 billion a year."
In the past, Belal Hamideh has represented clients who received wrongful death compensation for the loss of a loved one due to another's actions. This compensation can include funeral costs, any medical bills their loved one may have incurred as a result of their injuries, compensation for pain and suffering, loss of consortium, and more.
"No compensation makes up for the loss of someone you love. It can't. What is possible, however, is to be able to receive compensation that can help you to transition to the next stage of your life. When I represent clients in a wrongful death case, I do so as aggressively as possible to make sure that they receive everything they possibly can for all that they've had to go through. Whether someone passes away due to another's actions at work or elsewhere, my team and I do everything we can to ensure that their loved ones are as taken care of as possible through settlement or trial. Unfortunately, wrongful deaths continue to rise all across the country. When necessary, my team and I are ready to help," said Belal Hamideh.
Operating as more than a wrongful death lawyer, Belal Hamideh also represents clients as a Long Beach workers' compensation attorney. Having recovered millions for his clients over the years across 1,500 cases, Belal was named "Best Workers' Compensation Attorneys in Long Beach 2020" by Expertise.
For more information about finding a wrongful death lawyer in Orange County, procuring a wrongful death lawyer in Long Beach or to make a press inquiry, contact Belal Hamideh at (562) 526-1224.
Source: Belal Hamideh Law
Share: