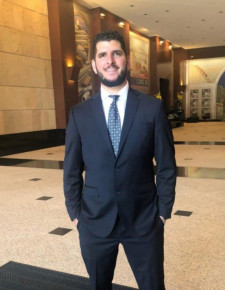 LONG BEACH, Calif., May 4, 2021 (Newswire.com) - Belal Hamideh, a car accident attorney in Long Beach, was recently recognized by the Traffic Safety Coalition. They ranked the firm as number one in the Long Beach area.
According to the Traffic Safety Coalition, the firm "boasts a huge track record of successful cases, millions of dollars in judgments and settlements in addition to a 99% success rate." They went on to say that the firm did more than just take vehicular accident cases, as Belal Hamideh has been successful "in such practice areas as car accidents, worker compensations, personal injuries, and employment law."
In creating their list, the Traffic Safety Coalition "conducted (a) list of 40 car accident lawyers in Long Beach featuring some of the most reputable, well-known, and experienced professionals with a perfect reputation across the state."
"I'd like to thank the Traffic Safety Coalition for ranking our firm number one among Long Beach car accident lawyers. We're always glad to be recognized for the work that we do for others. Helping our clients with their cases, seeing them get the compensation that they deserve for everything that they've been through, that's the best reward for doing this job. The hope with any reward is that it lets more people know that we can be there for them should they be injured in a vehicular accident, hurt in the course of doing their job, and anything similar. We were especially gratified to see the Traffic Safety Coalition say that we use an 'aggressive approach to pursue insurance companies and gain the maximum possible settlement for those who suffered from others' negligence.' We'll continue to do that in the future as well," said Belal Hamideh.
In addition to working as a car accident lawyer in Long Beach, Belal Hamideh Law also handles workers' compensation cases, personal injury ones, and others.
For more information about car accident attorneys in Long Beach, workers' compensation, or to make a press inquiry, contact Belal Hamideh Law at https://belalhamidehlaw.com/ (562) 526-1224 111 W Ocean Blvd. #424, Long Beach, CA 90802.
Additional Links and Information:
Truck Accident Attorney in Long Beach
Workers Comp Attorney in Long Beach
Source: Belal Hamideh Law
Share: