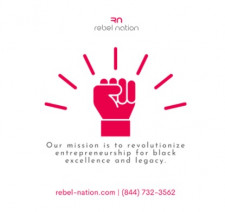 LOS ANGELES, February 24, 2022 (Newswire.com) - Rebel Nation, a Black-owned networking site, will soon unveil its new platform. This platform will be a site for Black entrepreneurs to connect to customers and collaborate with one another.
The name is an acronym, standing for "Revolutionize Entrepreneurship for Black Excellence and Legacy." The goal of the site is to provide a space for Black entrepreneurs to reach new audiences with fellow business owners and clients. Rebel-Nation accepts vendors from a wide range of industries.
When it launches, Rebel Nation will be a hub for Black-owned listed services and businesses. Additionally, the platform will feature a forum, with the expressed goal of promoting dialogue, making connections and collaborating on services, joint ideas, and more.
Rebel Nation has been designed as a membership platform, a place to facilitate business transactions. Between business owners and customers/clients, users can find professionals and services at Rebel-Nation.com they may not be able to find elsewhere.
"Rebel Nation is about rewriting and reclaiming the narrative associated with the word "rebel". What rebel means today and for future generations is to "Revolutionize Entrepreneurship for Black Excellence and Legacy". It's about creating an opportunity for investing in yourself and your family; increasing the kind of generational wealth that has been stripped away from people of African descent. By reclaiming our individuality, we showcase what we can bring to the country, and empower people of color through entrepreneurship and collaboration. 'Generational wealth,' means so much more than finances, it includes self love, worth, trust, identity, and sharing knowledge with people like you. Rebel Nation provides a platform for people of color to be recognized for their contributions and have a presence of their own. The founders of Rebel Nation are excited and grateful to be launching this soon and cannot wait to see what people do with the platform," said Krystian Wilkerson, Co-Founder of Rebel Nation.
Rebel-Nation.com offers a free trial membership for vendors. Potential customers are encouraged to check out the site, as well.
For more information about Black entrepreneurs, or to make a press inquiry, contact Rebel Nation at http://rebel-nation.com
Source: Rebel Nation
Share: