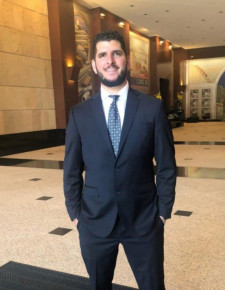 LONG BEACH, Calif., August 19, 2021 (Newswire.com) - Belal Hamideh, a Long Beach Personal Injury Lawyer, strongly advocates that drivers do not get behind the wheel if they are feeling drowsy or tired. Recently, a study from AAA showed that "drowsy driving contributes to an estimated 9.5% of all crashes."
For the purposes of these studies, "drowsy driving" is defined as "the act of driving or operating a motor vehicle while tired and feeling fatigued or sleepy." Possible effects of drowsy driving include an "inability to focus, delayed reaction times, poor judgment, inability to judge distances and speeds, and, of course, falling asleep."
More than one-fourth of drivers "report driving while being so tired they have difficulty keeping their eyes open." While this may seem like something that occurs primarily on lengthy drives, that is not the case. The National Highway Traffic Safety Administration found that, on trips lasting one hour or less, 47% of drivers who "recently experienced a drowsy driving episode… were driving for an hour or less."
According to the CDC, "drowsy driving is similar to drunk driving." They found that "being awake for at least 18 hours is the same as someone having a blood content (BAC) of 0.05%."
"When you're working long shifts, overnights, and overtime, it's natural to feel tired when you get behind the wheel. That said, drowsy driving is dangerous. It doesn't feel the same as drunk driving, but it can be very hazardous in its own right. If you're feeling too tired to get behind the wheel, don't. Take a cab. Get a rideshare. Take a nap, even. Being late for something is far better than never being able to arrive at it at all. As summer turns to fall and the school year starts, so many of us will be pushing ourselves even more. Taking care of yourself, developing healthy sleep habits, and refraining from driving if you're too tired will prove beneficial in the short and long run," said Belal Hamideh.
One of the National "Top 40 Under 40" Trial Lawyers, Belal Hamideh was also named by Expertise as one of the "Best Workers Compensation Attorneys in Long Beach."
For more information on not driving drowsy, finding a personal injury lawyer, or to make a press inquiry, contact Belal Hamideh Law at https://belalhamidehlaw.com (562) 526-1224 111 W Ocean Blvd. #424, Long Beach, CA 90802.
Source: Belal Hamideh Law
Share: