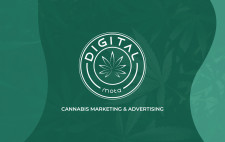 The new agency, launched in June 2022, is planning live networking events for cannabis industry professionals throughout 2022.
SAN FRANCISCO, June 28, 2022 (Newswire.com) - Digital Mota, a cannabis digital marketing agency, has announced its opening in June 2022. An omnichannel agency, Digital Mota offers comprehensive digital marketing services for cannabis industries throughout the United States.
Digital Mota exclusively works with cannabis companies. Its staff consists of experienced digital marketing professionals who have each had experience in the cannabis industry, or marketing cannabis brands and dispensaries.
Cannabis Marketing Services from Digital Mota include web design, search engine optimization, paid ads management, social media marketing, content marketing, video marketing, and others.
Based in San Francisco, many of Digital Mota's clients are based around California, with additional clients in other states.
"Cannabis digital marketing isn't like anything else. There are certain rules about what you can and can't post, can and can't say, that can be difficult for cannabis industry professionals to navigate. Those are just some of the reasons that we started Digital Mota. We wanted to create digital marketing that solely focused on the cannabis industry. It's not just about marketing. It's about authenticity, too. This industry has helped so many people to achieve a better quality of life in what's really a brief period of time. Through our agency, we can connect cannabis businesses to more of their potential customers, so that they can help more people to live how they want. We're excited to launch and can't wait to see where this goes," said Danny Star, Founder of Digital Mota.
Additional services from Digital Mota include Legit Script application support, WeedMaps CMS web integration, Amazon Ad management, and others. Digital Mota offers free consultations with their cannabis industry-focused digital marketing professionals.
For more information about digital marketing for cannabusinesses, weed marketing online, or to make a press inquiry, contact Digital Mota at (888) 428-1887.
Additional Links:
Cannabis Digital Marketing News
Source: Digital Mota
Share: