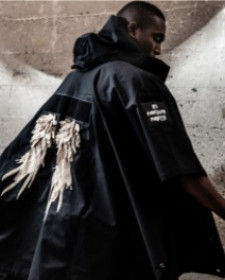 LOS ANGELES, November 10, 2021 (Newswire.com) - Les Fantome Palette, a luxury streetwear brand, has announced the release of their highly anticipated AW21 capsule. This Fall and Winter, you can expect to see custom knit sweaters, denim pieces, technical outerwear, woven hats, trousers, accessories and more.
Les Fantome Palette (translated as "the ghost palette") contains an extensive portfolio of exclusive, handcrafted garments. This includes 100% cotton graphic tops as well as military-style jackets, embroidered hats, bottoms and sweaters. The identity of the brand is rooted in a dark, rebellious mood, driven by unconventional design and youth culture. Industrial craftsmanship is evident with each piece.
LFP Designer and creative director Kwasi Nkansa remarks drawing from his life experience and international influences as a second-generation immigrant. Prior to launching LFP, he spent years studying physical and cognitive health, in addition to being a former chemistry researcher as well.
"Many of the signature pieces were created during periods of uncertainty and gloom for me, masked by color and texture variation," says Kwasi. The AW21 collection is titled "Capsule 002." It boasts several interchangeable pieces that can be purchased from the Les Fantome Palette website. To keep up with the latest news on LFP, follow them on Instagram.
For more information about Les Fantome Palette, luxury streetwear, or to make a press inquiry, contact Les Fantome Palette at https://lesfantomepalette.us/
Source: Les Fantome Palette
Share: