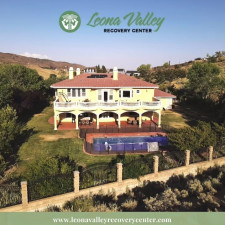 LEONA VALLEY, Calif., April 11, 2023 (Newswire.com) - Leona Valley Recovery Center, a California addiction rehab and detox treatment center, creates customized treatment plans to meet the needs of their patients. April is "National Stress Awareness Month." During this month and all others, trained professionals at Leona Valley Recovery Center incorporate stress management into patients' treatment plans.
Therapeutic approaches employed by Leona Valley Recovery Center counselors include Cognitive Behavioral Therapy (CBT), Dialectical Behavior Therapy (DBT), Acceptance and Commitment Therapy (ACT), Behavioral Modification (ABA), Integrated Change Therapy (ICT), as well as motivational therapies and others.
All of these are, in some way, designed to help patients to be able to better manage the stress that occurs in their lives, to be able to suppress it as a trigger for negative thoughts, addiction struggles, and so forth.
According to the National Institutes of Health, "April is recognized as National Stress Awareness Month to bring attention to the negative impact of stress. Managing stress is an essential component of a healthy lifestyle. Knowing how to manage stress can improve mental and physical well-being as well as minimize exacerbation of health-related issues."
"Stress isn't something that can be eliminated entirely from life. That wouldn't be good, as it would lead to problems with motivation, quality of life, and even happiness. The goal of stress management is to be able to keep stress at levels that can be managed, to keep stress from overtaking your life in an unhealthy way. In our stress management treatments, we work with our patients to realize, among many other things, that negative stress isn't necessarily caused by what we think are the traditional sources, but rather, how we react and interpret what's happening to us, what's happening around us. By learning to better manage stress, we can all learn to better manage not just our addiction and mental health, but our lives as well," said Hai Nguyen, Chief Operations Officer of Leona Valley Recovery Center.
Leona Valley Recovery Center is a six-bedroom residential treatment facility more than an hour's drive northeast of Los Angeles. Designed intentionally to be a departure from traditional treatment facilities, Leona Valley Recovery Center specifically centers a combination of evidence-based therapies and holistic treatments.
For more information about mental retreats in California, how stress management is developed at a luxury residential addiction treatment center, or to make a press inquiry, contact Leona Valley Recovery Center at (888) 702-1852.
Source: Leona Valley Recovery Center
Share: