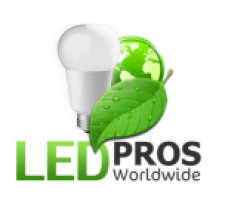 LOS ANGELES, February 15, 2022 (Newswire.com) - LED Pros, a company with many offerings in the industrial and commercial LED lighting market, recently announced that they offer color-tunable and wattage selector lighting fixtures. These fixtures are designed to empower users so that they can better adjust their lights.
According to Naomi Miller of the Pacific Northwest National Laboratory (by way of the U.S. Department of Energy), "these luminaires are different from other luminaries in that, instead of being one constant color, they can change in color." Moreover, they mention these lights as being "the number one application for anywhere you might want more light during the day than during the evening, you want to dim it down so you have that reddish, warm color come out. Restaurants, hotel lobbies, where skin tones look very good and some interiors look very, very pleasant."
With tunable white light, users will have the ability to adjust the color temperature of their light in real-time. To better customize the LED lighting, users will be able to modify both the intensity of the source as well as the correlated color temperature (CCT) with an input. Examples of this input include a slider control, intelligent lighting management, and more.
These lights can be programmed with a correlated color temperature (CCT) of 3500K, 4000K, or 5000K. Additionally, they can be programmed with Wattage 20W, 30@, and 40$. The goal is to make it so that companies no longer need to stock multiple color temperatures and wattage outputs.
"In a very brief period of time, I've seen Color Tunable and Wattage Selector lighting fixtures come a long way. Last year, it all started with tubes and flat ceiling panels. Ever since, you can see additional types of fixtures coming on board as well. These include troffers, post top lights, and so much more. With these lighting fixtures, you won't need to stock multiple color temperatures as well as wattage outputs. Those are a thing of the past. Instead, you'll be able to make sure that your lighting fits your day, fits your moment. Really, these new lighting fixtures just make it all that more possible for a business owner like yourself to make your lighting what you want it to be. We're proud to offer these products," said Steve Wilson of LED Pros.
In addition to these lighting fixtures, LED Pros also offer plenty of construction lights, commercial light poles, lighting for manufacturing plants, warehouses, factories, and others.
For more information about color tunable lighting, commercial LED outdoor lighting, industrial lighting, or to make a press inquiry, contact LED Pros at https://industriallightingfixtures.org (844) 533-7767.
Source: LED Pros
Share: