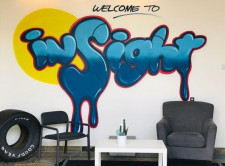 VAN NUYS, Calif., October 27, 2022 (Newswire.com) - Insight Treatment has provided counseling for teenagers in the valley for more than 30 years. To help more teenagers, this month they are announcing an expansion of their focus on mental health.
According to the CDC, "more than a third (37%) of high school students reportedly experienced poor mental health" and "44% reported that they felt sad or hopeless during the past year."
Originally a warehouse, Insight Treatment's Van Nuys location was specifically designed to be a place for counseling teenagers that also had a "clubhouse" feel so that teenagers would want to come.
Today, the Van Nuys location offers a "Day Program," which is a therapeutic, drug and alcohol-free day school program for students best served by being away from a more traditional school setting. Additionally, it also features an Intensive Outpatient Program, where clients attend daily groups or sessions and also take part in structured weekend plans.
Beyond that, the Van Nuys location also serves as a "hub" for Insight. Multiple events are hosted by their clinical staff there: external community events, AA meetings, internal clinical training, events with other treatment providers, and more.
All of this is overseen by Insight's Executive Clinical Director, Dr. Daryn Plancher.
"We're proud to have been able to help teenagers as well as their families for more than three decades. Teenagers and their parents have always faced struggles, but the struggles that many have had to deal with in recent years are unique. We've seen more teenagers struggling with their mental health than ever before so we wanted to respond to that. We've always helped with mental health and recently, we've made it a focus. Always, we encourage parents who feel that their teen may have a mental health problem, something that lingers, to reach out to us. We're looking forward to helping for many years to come," said Dr. Daryn Plancher.
At the Van Nuys location, currently, a limited number of scholarships are available for families in the valley.
The Van Nuys location is actually the second Insight Treatment location but the first to have been a warehouse. Currently, Insight Treatment also has locations in Pasadena, El Segundo, Santa Clarita, Modesto, Merced, El Monte, and San Diego.
To learn more about therapy for teens in the valley or to schedule a free assessment, contact Insight Treatment at (888) 295-9995.
Source: Insight Treatment
Share: