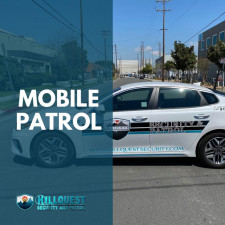 LOS ANGELES, February 6, 2023 (Newswire.com) - HillQuest Security, which operates security companies in Los Angeles and the surrounding area, offers mobile patrol. This includes security guards checking a location periodically while making themselves as visible as possible among other services. HillQuest Security has seen an increase in clients hiring mobile patrol services since crime began to rise.
According to the "Public Policy Institute of California (PPIC)," a "nonprofit, nonpartisan think tank," "California's violent crime rate increased by 6.0%, from 440 per 100,000 residents in 2020 to 466 in 2021." Unfortunately, "aggravated assaults jumped by 8.9%, and homicides and rape increased by 7.7% and 7.9%, respectively."
HillQuest Security designs its mobile patrol to be visible, specifically to serve as a deterrent to would-be criminals. Security guards patrol a selected location in clearly and fully designated patrol vehicles.
Clients decide what security guards attend to on their patrol. Services include checking for damage, graffiti, critical gauges, signs of burglary, locking/unlocking doors at designated times, and more.
Mobile patrols are backed up by a 24-hour control room. HillQuest Security has provided these services for office buildings, warehouses, industrial parks, parking lots, condos, strip malls, and other locations that require security.
"When it comes to security, you want the right amount. You want you and yours to be safe and protected. That having been said, not every location is best served by a security officer stationed full-time on the premises. That's where our mobile patrol solutions come in. Each of our trained security guards can patrol your location in the best, most appropriate manner for your needs. We always work with our clients to provide them with customized security solutions. That way, they're getting the best security for them, and not something that worked for someone else. We make all security reports available in real time to our clients. We see it as just one more way that we can keep our clients safe," said John Bouzy, owner of HillQuest Security.
In addition to mobile patrol, HillQuest Security provides, among others, bank security, hotel security, and bodyguard services in Los Angeles and the surrounding area. They are available 24/7.
For more information about an armed patrol in Los Angeles, asset protection in Los Angeles, or to make a press inquiry, contact HillQuest Security at https://www.hillquestsecurity.com/ or (888) 925-8040.
Source: HillQuest Security
Share: