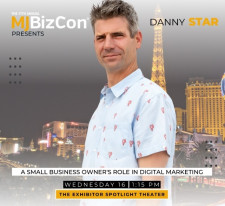 SAN FRANCISCO, November 15, 2022 (Newswire.com) - Digital Mota, a company that provides omnichannel marketing for dispensaries, will be at MJBizCon. The Marijuana Business Conference and Cannabis Expo will be held in the Las Vegas Convention Center from Nov. 15 through 18.
Advertised as "the preeminent Marijuana Business Conference to drive deals and forge valuable connections with cannabis professionals in business today," the convention will be attended by more than 35,000 people.
Among those 35,000 include "1,400+ exhibitors" as well as "180+ speakers." The convention will focus on helping those in the marijuana/cannabis industry to "make the right connections," "avoid million-dollar mistakes," "find the vendors that will fuel growth," and to "get fact-based insights on growth projections, regulatory reform, politics and business management."
Digital Mota has rented a booth on the convention floor near the entrance. This booth will be staffed by Digital Mota staff members, models, clients and others. Additionally, Digital Mota rented an exclusive meeting room for signing new clients as well.
Danny Star, CEO and Founder of Digital Mota, will be speaking on Nov. 16 at 1:15 PM in the Exhibitor Spotlight Theater. His speech will cover how omnichannel digital marketing can help cannabis brands, among other topics. Beyond that, Digital Mota's LED billboard truck will circle the convention center and their 3D-printing/embroidery machine will be on hand to help clients as well.
"In the words of the MJBizCon organizers themselves, this is 'no fluff. No small stakes.' This is the biggest and best cannabis business convention in the world. We're grateful and proud to be a part of it. I'm excited to see how my staff performs in this environment, networking with other vendors, dispensaries, and more to make a real connection. Among many other things, this is a great opportunity to show our clients, as well as potential clients, all of the ways that Digital Mota can help. I'm really looking forward to connecting with so many new people, to showcase what makes both Digital Mota as well as the rest of this industry so special," said Danny Star.
Digital Mota provides marketing for weed stores, dispensaries, 420-friendly events, and much more. Omnichannel marketing services from Digital Mota include content creation (including videos, blogs, and more), social media marketing, web design, ads management, and multiple other services.
For more information about dispensary digital marketing, cannabis SEO, or to make a press inquiry, contact Digital Mota at https://digitalmota.com/ (888) 428-1887.
Source: Digital Mota
Share: