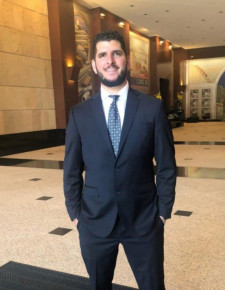 LONG BEACH, Calif., October 4, 2021 (Newswire.com) - Belal Hamideh, a workers compensation lawyer in Long Beach, will help those who file for workers' compensation claims due to the Delta Variant of COVID-19. This follows an increase in the number of COVID-19 claims in the California workers' compensation system.
The California Workers' Compensation Institute (CWCI) estimated that "ultimately the COVID-19 (workers compensation) claim count for July will hit 3,872 cases, or 48.8 the projected total of 811 claims for June."
July was "the first full month following the June 15 reopening of the California economy, a move that coincided with a wave of COVID-19 infections fueled by the emergency of the highly infectious Delta variant."
Belal Hamideh is in a position to be able to help those who have gotten COVID-19 in essentially any line of work. A "review of COVID claims by industry found that while public safety/government workers continued to account for more claims than any other sector… COVID claims among healthcare workers were also up." Other increases included the transportation sector, retail workers, and food service.
"Unfortunately, the pandemic is not over. If you or a loved one has sustained permanent injuries or death from COVID-19 at work, we can provide a free consultation if you qualify for a settlement. We can do that no matter what field you work in, even if you're a first responder or healthcare worker that, according to Senate Bill 1159, is presumed to have gotten COVID-19 at work. When that occurs, they deserve workers' compensation here in California. Throughout this time, we will continue to represent those who have contracted this virus or suffered any other at-work injury to receive the maximum compensation that they deserve," said Belal Hamideh.
In addition to taking workers' compensation cases, Belal Hamideh is a Long Beach personal injury attorney. His Avvo rating is "Excellent" as he is both a Featured Attorney for Workers Compensation as well as Personal Injury.
For more information about Delta variant COVID-19 workers compensation cases, workers compensation in California, or to make a press inquiry, contact Belal Hamideh Law at https://belalhamidehlaw.com (562) 526-1224 111 W Ocean Blvd. #424, Long Beach, CA 90802.
Source: Belal Hamideh Law
Share: