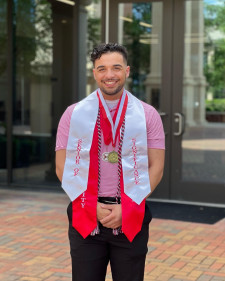 LONG BEACH, Calif., July 29, 2022 (Newswire.com) - Belal Hamideh, a Long Beach personal injury lawyer, recently awarded their annual scholarship to the 2022 winner. This year's winner was Ali Hamza, a graduate of Lamar University who is currently continuing his education at the University of Texas School of Law.
Every year, Belal Hamideh Law awards one scholarship to a deserving winner. They sift through hundreds of applicants and their essays to find the winner. That winner receives a $1,000 scholarship from Belal Hamideh Law.
Ali Hamza graduated from Lamar University Summa Cum Laude as a Presidential Scholar, Presidential Fellow, Summer of Undergraduate Research Fellow, and Reaud Honors College Graduate. As a competitor in the American Moot Court Association's National Tournament, he was recognized as "8th best Orator in the Nation." In addition to his academic accomplishments, he set up fundraiser events and has raised more than $20,000 for Syrian and Palestinian refugees.
The scholarship was originally created to help those in need to be able to get extra money for law school. Specifically, it's for those law school students who want to have a positive influence on the world, who want to make the world a better place.
"We're always proud to be able to provide our annual scholarship. There are so many highly-qualified law school students out there, so many who really are committed to making the world a better place for others and it's not easy to be able to choose just one winner. "We're honored to be able to award this scholarship to Ali Hamza and we are very excited to follow his journey wherever it may take him," said Belal Hamideh.
In addition to personal injury cases, Belal Hamideh also works as a workers' compensation lawyer in Long Beach. He has taken cases involving many kinds of injuries workers suffer in the workplace, wrongful death cases, willful misconduct, and others, working for his clients so that they can receive maximum compensation. He offers free consultations for prospective clients.
For more information about injury attorney scholarships, a car accident lawyer in Long Beach, or to make a press inquiry, contact Belal Hamideh Law at (562) 526-1224. https://belalhamidehlaw.com
Source: Belal Hamideh Law
Share: