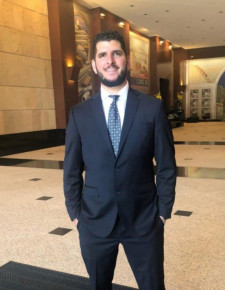 LONG BEACH, Calif., March 7, 2023 (Newswire.com) - Belal Hamideh, a wrongful death lawyer in Long Beach, for years has represented those who were killed by the reckless and/or negligent acts of another. Recently, in light of a study showing the dangers of speeding, he urges drivers to drive cautiously as well as defensively.
According to the National Highway Traffic Safety Administration, in 2020, there were 38,824 "lives lost on U.S. roads." Of those, 11,654 were "drunk-driving fatalities." However, 11,258 of those were "speeding-related traffic deaths."
Belal Hamideh Law has represented many clients in wrongful death lawsuits resulting from vehicular accidents. In these cases, Hamideh and his team had to prove that the victim's death was caused by the negligence, recklessness or carelessness of the other driver/another party. Additionally, the victim's death did not have to be entirely caused by the actions of the other party, as a case could be valid and won even if the other party was only partially responsible.
"Wrongful death cases can be the most challenging for the survivors, to know that they lost someone they loved through the actions of another person. For too many, 'speeding' is just part of driving, something they do to get to where they want to go. That can't be the default. Those speed limits exist for many reasons, not the least of which is that driving too fast can end in tragedy. When someone is lost through another's actions on the road, know that there is help. There are steps you can take to bring a case against them and, in time, to receive compensation. No compensation to make up for the loss of a loved one as nothing can do that, but rather, compensation to move on to the next phase of life," said Hamideh.
In addition to working as a wrongful death lawyer, Hamideh handles many different kinds of personal injury and workers' compensation cases. With an Avvo rating of "Excellent," Hamideh has been recognized among The National "Top 40 Under 40 Trial Lawyers."
For more information about finding a wrongful death lawyer in Orange County, what a wrongful death attorney can do or to make a press inquiry, contact Belal Hamideh at (844) 245-2995. https://belalhamidehlaw.com/
Source: Belal Hamideh Law
Share: