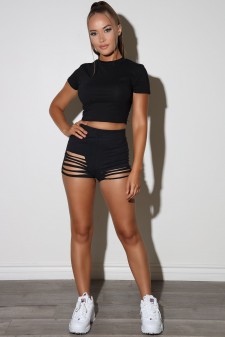 LOS ANGELES, October 14, 2020 (Newswire.com) - Alvy Luxe, a fashion and apparel company, recently released a line of Luxe "Basics" clothing. The idea behind this apparel is that customers could "dress up" or "dress down" in them, making the clothing apparel for different settings.
The "Basics" line from Alvy Luxe includes many different colors of nylon bodysuit, biker shorts, rompers, jumpsuits, leggings, box and tie sets, and other forms of apparel. Customers can wear this apparel with other clothes on top of them for more formal gatherings.
This apparel was also designed for customers to exercise or lounge around in. Essentially all of the products in the "Basics" line were designed with "good stretch to the fabric" and "run true to size." All of this apparel is less expensive than $40. The majority of the pieces cost $19.99.
"When Alvy Luxe started, the idea was to make comfortable, functional pieces that were right for the streets as well as the 'hot spots.' Well, when the pandemic hit, there were far fewer people going to the streets, the hot spots, or anywhere else. We're committed to making sure that our customers look and feel great wherever they go, even if the only place they're going is home. So, our 'Basics' line has everything someone needs to look great on the go, on the couch, or anywhere else. You can dress these up, dress them down, or wear them as is. As more and more places open up, these quality designs will fit in practically anywhere," said a spokesperson from Alvy Luxe.
In addition to the 'Basics' line, Alvy Luxe offers many other kinds of apparel. As of this writing, they offer free shipping on all domestic United States orders of over $100.
For more information about fashion forward bodysuits, 'Basics' collections, or to make a press inquiry, contact Alvy Luxe at https://alvyluxe.com/
Source: Alvy Luxe
Share: