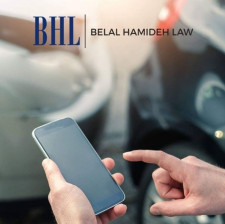 LONG BEACH, Calif., December 28, 2022 (Newswire.com) - Belal Hamideh, a truck accident attorney in California, has represented many clients who were injured in accidents involving trucks. As the number of truck accidents has increased, Belal Hamideh urges caution this winter for the drivers of trucks and all vehicles.
According to the Insurance Institute for Highway Safety (IIHS), "the number of people who died in large truck crashes was 28 percent higher in 2020 than in 2009." Additionally, "ninety-seven percent of vehicle occupants killed in two-vehicle crashes involving a passenger vehicle and a large truck in 2020 were occupants of the passenger vehicles."
This may be because, as the Institute found, "trucks often weigh 20-30 times as much as passenger cars and are taller with greater ground clearance, which can result in smaller vehicles underriding trucks in crashes."
In the past, Belal Hamideh has won compensation for clients who were injured in accidents involving trucks. In one particular case, the other side settled with Belal Hamideh, truck accident lawyer in Long Beach, for $450,000.
"Any accident can be dangerous but truck accidents can be especially so. A truck is so much larger than even the typical SUV that it can be a treacherous situation for drivers and passengers alike. Always, my staff and I urge caution when driving on the road. However, even if the driver of a car is driving as carefully as can be, they could be harmed by a truck. In a truck accident case, my team and I perform a thorough investigation to discover exactly who is at fault. Yes, it could be the driver of the truck. However, it could also be the fault of whoever loaded the cargo, the owner of the trucking company, and many other parties. My team and I work to find who is responsible and then we represent our clients as aggressively as possible to secure a positive outcome," said Belal Hamideh.
In addition to serving clients as a truck accident attorney, Belal Hamideh has handled more than 1,000 cases in his career. In those, he has won many different kinds of personal injury, car accident, and workers' compensation cases for his clients.
For more information about how a truck accident lawyer can help or to secure the services of a truck accident lawyer in California or make a press inquiry, contact Belal Hamideh Law at (562) 526-1224 or visit https://belalhamidehlaw.com/.
Source: Belal Hamideh Law
Share: